"Ghost Bust - Live" Haunted Projection Software
ESTABLISH YOUR HAUNT'S UNIQUE THEME AND BACK STORY IN A CAPTIVATING WAY LIKE ONLY THE GHOST BUST CAN
Welcome your haunt's guests in classic Haunted Mansion fashion! Have the Ghost Bust perform chilling ghost stories that set up your haunt's theme and back story. Keep guests entertained while in line with the haunt rules.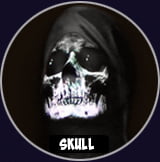 YOUR ESCAPE ROOM'S OWN VIDEO ANIMATRONIC CLUE MASTER
Have the Ghost Bust provide your Escape Room customers with clues whenever they're needed, along with your Welcome message, Back Story, Rules, Time Reminders, Don't Touch That messages, and Success or Failure sequences.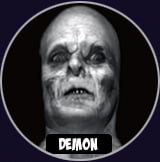 SIX CHARACTERS TO CHOOSE FROM
Pick the character that matches your Haunt or Escape Room theme best. Options include: The Zombie, The Clue Master, The Demon, The Graveyard Skull, the new Pirate character, or The Genius himself, Albert Einstein.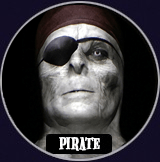 MORE FLEXIBILITY!
Newly updated to expand the number of audio clips you can trigger to 36! Use the letter keys as well as the number keys to instantly trigger pre-recorded audio files to make your Ghost Bust say whatever you want with the press of a single button. Welcome messages, success and failure messages, thanks for coming messages… all while maintaining precise consistency with every performance
WHAT'S INCLUDED
The Ghost Bust Live software was created to expand the fun and versatility of the Ghost Bust system and is only available to those that have purchased the full system. (Proof of purchase may be required.)
Computer not included, (works on Mac or PC).  Ghost Bust sold separately.